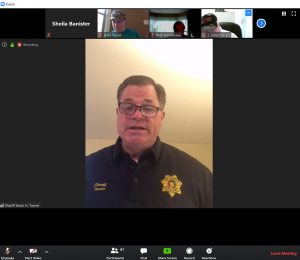 Sheriff Kevin Turner addressed the Republican Men of Madison County today. He gave an update on what is happening with law enforcement in the county. Below is a brief summary of key points.
COVID19 Update

In general, people are complying with the stay-at-home order. Had a little trouble in the first week with people having parties at their homes but they have cleared up most of the misunderstandings regarding the order. Still have larger number of people wanting to gather for church services. He recommends holding off for a little longer before getting together with people outside your immediate family.
Overall, crime rate has decreased during the pandemic especially in theft-related crimes. They have seen a slight increase in domestic violence and DUI incidents.
One of their key goals is to keep the virus out of the jail. All personnel are equipped with face masks and other PPE to help protect the inmates. When a new inmate enters the jail, they are automatically put into a 14 day quarantine to ensure they are not affected.
The Sheriff's IT department is implementing an online phone service that will enable inmates to make direct calls to their attorneys to ensure speedy due process and that cases can still move forward in the legal system.

The department has issued a 60-day extension for pistol permit renewals. Pistol owners whose permits are expiring do not need to worry about being not in compliance during this extension period.
Speeding and other traffic citations are still being given to violators but no arrests are being made at this time.
The Sheriff's office has put a hold on all evictions during this time. The hold will remain until people can get back to work.
Since in office, the Sheriff has been able to work with County Commissioners to ensure that the office grows with the county and is able to serve and protect its citizens. Growth has included 8 new officers last year and are looking to expand 10-20 more officers in the next year.
The Sheriff's office is also implementing new leadership training for all supervisors to help keep leadership sharp and strengthen morale within the organization.